ALLEA 25th Anniversary


Science and Society in Present-Day Europe

In 2019, ALLEA, the European Federation of Academies of Sciences and Humanities, will celebrate its 25th anniversary during its annual General Assembly, hosted by the Swiss Academies of Arts and Sciences. As in all jubilees, there should be room for pride and celebration, but also for appraisal and critique: to look at past achievements with the eyes of the present, in order to prepare a better future.

The last quarter century has been a period of tremendous change in the field of science, which has affected both disciplinary discourses and patterns of institutional governance: on the one hand, research topics such as energy, health or data science have become transdisciplinary and acquired the status of global challenges. On the other hand, European  scientific institutions have become motors of excellence and innovation with a high impact on the transformation of European societies in our digital age.

Yet, public confidence in the guiding role of science in shaping our future seems to be increasingly called into question. Does European science blossom, while European societies ache? Political discourse is frequently driven by algorithms of acceptance rather than by scientific or scholarly expertise. Our common cultural values, rooted in the curiosity and tolerance of the Enlightenment, are increasingly challenged. Different perceptions and narratives of Europe threaten to divide our societies, leaving a vacuum of haunting uncertainty about the future.

What role can European academies play to provide a bridge between production and diffusion of knowledge to and with Society? How can they contribute their share to the anchoring of the underlying values of the Enlightenment upon which scientific progress is based?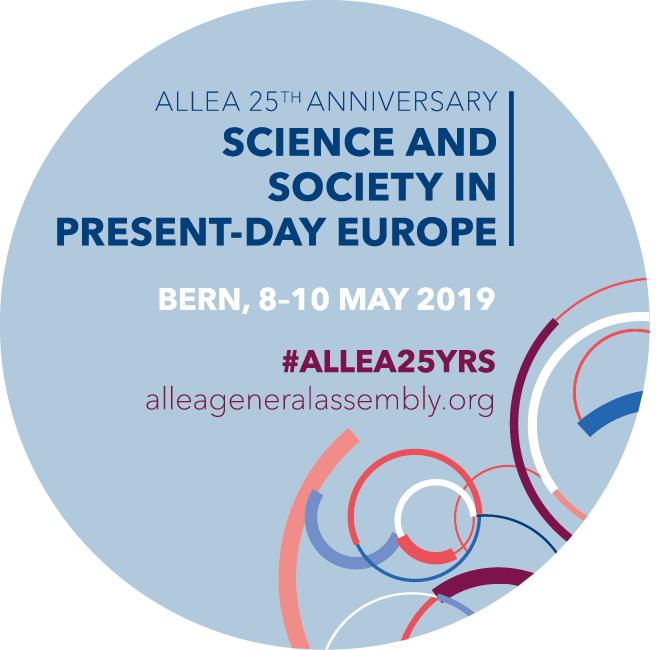 ALLEA General Assembly
The ALLEA General Assembly convenes academies of sciences and humanities from 40 countries across the Council of Europe region. The General Assembly programme consists of various parts: the annual business meeting, the award ceremony of the All European Academies Madame de Staël Prize for Cultural Values, as well as a scientific symposium. The 2019 ALLEA General Assembly will mark the 25th Anniversary of the inception of ALLEA and will be hosted by the Swiss Academies of Arts and Sciences at the Congress Centre Kursaal in Bern.
The symposium seeks to provide a platform for connecting excellence in Europe by bringing together high-ranking European policymakers, scientists, scholars as well as the interested public to debate the most pressing issues faced by science and society.
On this occasion, the All European Academies Madame de Staël Prize for Cultural Values is awarded to an eminent scholar or intellectual whose work represents a significant contribution to the cultural and intellectual values of Europe and to the idea of European integration.
At the closed business meeting, ALLEA governance and policy matters are on the agenda and discussed by ALLEA Member Academies.

About ALLEA
ALLEA, the European Federation of Academies of Sciences and Humanities, was founded in 1994 and currently brings together almost 60 Academies in more than 40 countries from the Council of Europe region. Member Academies operate as learned societies, think tanks and research performing organisations. They are self- governing communities of leaders of scholarly enquiry across all fields of the natural sciences, the social sciences and the humanities. ALLEA therefore provides access to an unparalleled human resource of intellectual excellence, experience and expertise.
Independent from political, commercial and ideological interests, ALLEA's policy work seeks to contribute to improving the framework conditions under which science and scholarship can excel. Jointly with its Member Academies, ALLEA is in a position to address the full range of structural and policy issues facing Europe in science, research and innovation. In doing so, it is guided by a common understanding of Europe bound together by historical, social and political factors as well as for scientific and economic reasons.

About the Swiss Academies of Arts and Sciences
The Swiss Academies of Arts and Sciences, the host of the 2019 ALLEA General Assembly, is an association of the four Swiss Academies of Sciences: the Swiss Academy of Humanities and Social Sciences (SAHS), the Swiss Academy of Medical Sciences (SAMS), the Swiss Academy of Sciences (SCNAT), and the Swiss Academy of Engineering Sciences (SATW). It further comprises the Centre of Excellence for Technology Assessment (TA-SWISS) and Science et Cité as well as other scientific networks.
Learn more