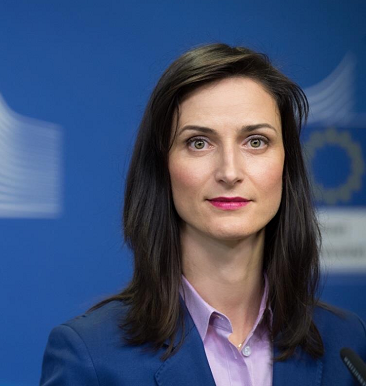 Mariya Gabriel
European Commissioner for Digital Economy and Society
Mariya Gabriel is the European Commissioner for Digital Economy and Society since July 2017.  Within her overarching portfolio, she has as an overall objective the realisation of the Digital Single Market which should directly benefit the European citizens.  She served as Member of the European Parliament from 2009 to July 2017. Being the EPP Group Vice-President, she tackled issues related to EU enlargement, Mediterranean region, Middle East and North Africa. She chaired the EUROMED Working Group and focused on various priorities, e.g.  migration, security, fight against terrorism and radicalisation, EU external policy, Western Balkans, women's rights. Mariya Gabriel also has considerable achievements in the area of the EU visa policy – she is the EP rapporteur on 1/3 of all EU visa liberalisation agreements. She was awarded twice the prestigious prize "MEP of the year" – in 2016 for the Development category, and in 2013 for the Gender equality category.
In 2017 she was honored with the Royal Spanish Order of Civil Merit for her contribution to the foreign relations of the country and 2016 – with the Columbian Order of San Carlos for merits to the country in international relations and diplomacy.
During her academic career, she worked in the area of International Relations, History of the European Institutions, Political Sociology and Comparative Politics.